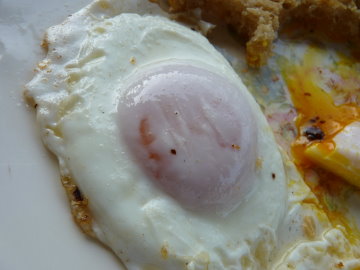 (Note: I wrote this last year. Decided to post it and hope we will not have another warning this May 22nd.)
For years I have been struggling to find "enlightenment" – you know, to rise above the warped perspective of this institution for the insane that we call the world. I, like other such seekers, have my ups and downs. It seems like a trampoline; we rise, snatch a bit of truth and revel in it, only to find ourselves down again, bounce, bounce, bounce, thud. Lying there wondering how this happened yet again, we scan the sky, looking for the way up, praying for a boost. I was lying prone at the bottom of a deep gully at the time of May 21, 2011. In my fuzzy state leading up to this day, I had fleetingly heard or seen somewhere that once again someone had prophesied the end of the world. I had not followed it up and had forgotten this bit of trash in my mind that was littered with junk from the internet, the television news; the printed mass media.

On the morning of this date, I had been feeling sick and in a weakened state. Old age had been kicking me around, and then bronchitis, like my least favorite cousin, had come for a surprise visit and decided to stay for an intolerably long time. I aimed my creaking body toward the kitchen to fix breakfast, holding my old bones and sinew together by sheer force of will. (Body parts tend to give up that effort and go their separate, sagging ways with time. It's not pretty. I avoid all reflective surfaces in the morning.) Anyway, I decided I could manage to fry a couple of eggs and make toast.

When I had eased two eggs into the pan and began the process, I noticed there was something odd about the one on the left. Blinking the gunk out of my eyes (I told you old age isn't pretty), I focused on it. The yolk was turning white with the hot oil, but letters had formed on the top of it. I put on my reading glasses and peered at it. There were three letters. E.N.D.
I backed up, blinked my eyes, cleaned my glasses and looked again. Yep, there it was – clear as day. And I had not, I say, had not, done anything that should have caused this apparition. The other adjoining egg was as innocent and perfectly cooked as it should be. This one was telling me something. I was split two ways. My mind was rollicking with the humor of it – reminding me of past sales on eBay of likenesses of Elvis or Jesus on pancakes or turnips. Could one package and sell a fried egg?
Funny! Yet my ailing body was fearful and shrinking. Oooh! This is what it had thought all along. The END was near. Time to make pre-death funeral arrangements – and fast.

I was munching my toast (still have my own teeth) and eating my right egg, staring at the left one and ruminating on it. Does God make jokes? Yes, given my experience with life, God is a master comedian - and lucky for us, because otherwise it would be too darned bleak here. I showed the egg to my spouse, who hummed and hawed about it. (He's no longer surprised at anything that happens to me.) I decided no one would believe me if I told them about it, so I got my camera out and took a picture of it. The photo was not as good as the real thing, but it would do. While I slowly chewed and swallowed the tasty omen, I mused that this would be a good story to tell the family, but I wanted them to know my mind wasn't going as fast as my body was, hence the picture for proof. At my age, one always worries about one's mind. And the family always looks at you funny when you can't remember something from yesterday or even five minutes ago. It makes me uneasy because I can look into their eyes and see thoughts about nursing home facilities and medication (or is that eradication?).

I decided I would brazen it out and treat the story like a joke rather than an omen of my approaching demise. (Or, maybe it was, but that was a joke too.) So, with my picture as back-up, I told my son and grandson about it. I chuckled and felt silly. That was when they told me it was the day the world was supposed to end. "What?" I said, not getting it. They gave me that look - like I was out of touch. Then they said some religious group had figured it out to the day and this was the day – either of rapture or disaster, however you looked at it.
This gave my egg a whole new possible meaning!.

It was a joke after all. The day came and went (6 pm I think was the forecast) and nothing doing – that I saw anyway. The way I figure it, I ate the egg and thus diverted the whole thing. This benign omen is now churning away in my innards, to be disposed of (in what might be a most appropriate way for this kind of precognication) by May 22nd – if I'm lucky.