Ann R. Davis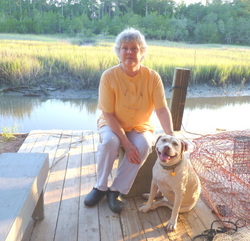 Welcome to my home in this black, swirling space, a universe peopled invisibly with billions of avid seekers. I'm Ann - at present an author, artist, a drop in the sea of humanity - a small crystal drop reflecting its brothers. I was born in Savannah, Georgia. I come from a long line of farmers or country folk, our peace interrupted by the conflict between our free thinkers and hidebound conformists. I have typical southern roots (that cling tenaciously). We are are all guilt-ridden; suffering to achieve nobility, hoping for glory and not knowing what it is when it arrives. We are all story tellers down south. It's a very long tradition. For centuries we lived in a sparsely settled landscape far away from teachers and schools, one with nature - that whimsical maiden who alternately blessed and cursed. We worked in the woods and newly tilled fields until dusk, and in the evenings we told tales to save our history and for entertainment. I was never very good at it until recent years, when I had a "happening."
---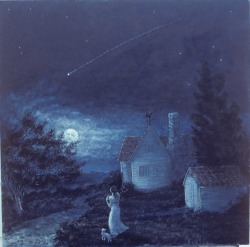 On Evening's breeze I drift and dream,
soft scented nights, moon sifted, seem
to open avenues to otherwhere -
Unclothed, my spirit wanders there
amid exotic, yet familiar places
where misty, near-remembered faces
appear and disappear in time
unbridled to my conscious mind
which harnessed, safe, in bright of day
dares not to dream so wild a play
ARD

---
I had never considered myself to be a writer. I had done some books for genealogy and research of McIntosh County, Georgia and The Tale of the Altamaha Monster, a children's historical fiction about the founding of the colony of Georgia and its settlement by Scottish Highlanders. But, although these acquainted me with publishing and book binding, it had not occurred to me that I could really write - you know, something entertaining that somebody might want to read. Then something both wonderful and shocking happened to me. It started me wondering about our perception of reality, time, and much more. It happened certainly unexpectedly, out of nowhere. I say nowhere, the "where" changed, you see. My husband and I were driving through North Carolina, on our way north for a family gathering. I was interested in genealogy, and we were going through a section of the State where some of my ancestors had lived. It was rural - fields and woods, no houses anywhere that I could see. I was wondering how they had lived in such rustic circumstances, how people in general lived "back then." The road was coming toward us and I was in a very peaceful state. That's when it happened. I was suddenly having this movie in my mind. There was a man, a farmer who was tilling his field with his mule. I peacefully watched his daily work and he answered my questions, like, what crops he grew and how he grew carrots for his mule (they like a re-ward, same as anybody" he said). And Myrd, (short for Myrtle) was his wife. He called her "Myrd Bird", with hushed fondness. When I wondered why, I saw her coming down the steps of their cabin, her head kind of bobbling as she walked. A distinctive feature. "See?" He said. And I understood that he called her "Myrd Bird" because she reminded him, as she did me, of a little dove with this way she had of moving along. There was more to this "vision" that I will not go into here, but it was such a blissful dream. I felt bathed with love and warmth when I was "there." No, it had not been a daydream - I'm very familiar with that, of course. I was just a bystander, looking on. I wasn't in charge of it. I didn't manipulate it. I was just watching and wondering.
When I gradually became aware of the car and my husband again, I was excited and started to tell him, "I just had the most wonderful......." and then of course, I paused because I realized it was ODD, even though it had not seemed so at the time at all. However, I had already begun, so I told him what I had seen and he told me I should write it down. So, I did. Later, when we were home again, I transcribed my jottings and thought about those people. I was "in love" with them, it seemed. Then I discovered if I was lying down, or in a peaceful state, that I could see more scenes of this same couple and their lives. I added notes to my story. It was exciting because I never knew what was going to happen next, so it was like reading a novel or watching a movie. Then I discovered other people and their lives coming into my vision and I recorded what I saw. It was extraordinary. The first experience I made into three stories. Two of them I published in my first book, Heaven in a Hole in the Ground and Other Earthy Stories. But, because I was not courageous enough to publish the "vision" stories, I held most of them back, until now. I am from the conservative Bible Belt South - not California. My relatives and friends would think I was crazy. But, I think the time has come for me to brave the criticism and let these stories be told. I don't know exactly what they are but I have several theories, which I discuss in the next book of stories, Looking Out the Back Door: Visions of Past Lives.
Over time, other stories would come to me that were not the same. I would just write. I would sit in my chair thinking, okay, so I should write a story now, but what? And I would get a title maybe, like "Tartan Pajamas" and my mind boggled, because what the heck did that mean? But I didn't argue with it. I went to the computer and the story just filled itself out. The same with the story "Grief Stone" from the "Heaven" book. I saw a man wheeling a barrow with a grindstone in it; heavy of heart and burden. I sensed him clearly, poor old guy. I went to write it down and it also spun itself out. But were these the same as the earlier ones that presented themselves in deep-stained, pain and joy pictures? Not really. Yet it seemed I had help. I marveled and thought it couldn't be me. But it was, of course. All of us has an unlimited God-connected "higher self" that helps us to achieve our purpose.
I was always a homebody, mother, gardener, artist. I am amazed to find myself a storyteller.
(See "Tartan Pajamas" on the "Stories" page)

Current book: Heaven in a Hole in the Ground and Other Earthy Stories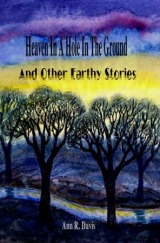 Sea Griffin Publishing, Blackberry Books
ISBN 0-9728383-3-5
Available from
Amazon.com

Also available on Kindle
Who would be interested in reading these stories? Those who want a short, satisfying read to fit in their day, in a waiting room, an airport, or before bed. Those who love the elusive nobility in man, his struggle for spiritual understanding, the earthiness of people of the past. Those who are a bit jaded with stories that stop at the surface. You want more than chaos, titillation and yearnings of the outer man. You want to look into the inner man, look at his hopeful, yearning spirit, how it moves his mind and actions, how it influences his responses to his earthly experiences. That's where the real action is. I want to get a glimpse of that. It is only that bright and glowing bit that we carry with us when we leave the world and travel onward into a dimension of no words, no language.
Stories from the book
---
New Book - Looking Out the Back Door - Visions of Past Lives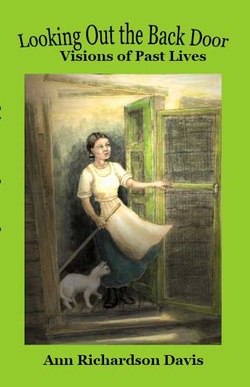 Sea Griffin (446 pp.) $15.99 paperback $2.98 e-book May 26, 2011 ISBN: 978-0972838641
Now for sale at
Amazon
or
buy from author
.
NOTE:
Retail stores
may order directly fom
www.createspace.com/info/createspacedirect
.
If you would like to try an ebook copy of this book with the intention of reviewing it on Amazon, please email me.


Reviews:
"Looking Out the Back Door" captures the essential core qualities of what makes us human, as each story explores pivotal moments in people's lives. This book invites us to consider thoughts and feeling of those who've lived lifetimes ago, in a way that holds a kind of sacred space around each of these individuals as their stories touch our minds and hearts. The gift we receive in return for experiencing these stories is profound, as the characters in these stories feel as real as our own friends and family, and as we feel the growth and spiritual development attained with each life-changing event. There is magic in the realization that we are knowing and feeling the deepest, innermost thoughts and feelings of those who've lived before, and in sharing such fundamental basic truths of human emotional relationships. Whether these stories are the author's past lives, lives in parallel or alternative worlds, or lives of others throughout history doesn't seem to matter nearly as much as the sincerity of heartfelt connection that comes shining through each and every story in this profound book. Cynthia Sue Larson, author of Reality Shifts, Karen Kimball and the Dream Weaver's Web, Aura Advantage and RealityShifters
Guide to High Energy Money.
www.realityshifters.com
Ann R. Davis has woven a deliciously rich
tapestry of exquisitely crafted short stories that rivals Poe at his best for
conjuring up such rich images in the mind of the reader with the turn of every
page. Her intuitive and gifted insight
into past temporal events breathes life into the very flesh and bones of these
long dead people with their tales of mortality.For as we tread this precious Earth in the
third dimension we all cast an invisible emotional wake in our path that 'lives'
beyond the grave for those who can see or rather feel its deep furrowed memory
imprint, immortally engraved into the fabric of the universe.Such
is the true nature of time and space as it floats phantasmagorical like on the
vast unseen quantum sea of consciousness energy.Our world is so much more than what we can
perceive and we are indeed all blessed to have such a gifted lady walk among us
and cast this enchanted spell of literary magic.
Dr. Ian Baillie
, Author of:
Rebel Spirit; Evidence for the Continuity of Consciousness
. Publisher: UPSO, 2001
Forbidden Science; A beginner's guide to understanding nearly everything.Publisher: UPSO 2004
Covenant General: Evidence for the synchronicity of time.Publisher: UPSO 2007 Website:
www.ravenecho.com
Another review by Mary E. Barton
,

author of
Soul Sight: Projections of Consciousness and Out
of the Body Epiphanies, Experience Tomorrow Today: Dreams that Come True
and
Everyday Telepathy, Clairvoyance and Precognition
.
http://www.examiner.com/metaphysics-in-tacoma/looking-out-the-back-door-visions-of-past-lives-review
"Author Ann Richardson Davis has a gift and
extremely
lucky for us, she is sharing it. One day while riding down a
North Carolina country road, she had a vision of a pioneer family that "told"
her their story and
Looking Out the Back Door: Visions of Past Lives
came
to life. As a talented artist, her story telling heritage emerged when she
discovered she could literally revisit these past lives and learn their
stories.
In her 400+ page
book, Davis chronicles 13 tales of life miracles, tragedies, loves and hates
with an in-depth, intimate view into the inner lives and hearts of some of the
most engaging people who once lived. We meet humble and arrogant alike in the
form of pirates, nuns, Scotsman, pioneers and Stargazers. The book is so
authentic, moving and inspirational, appealing to religious and secular alike,
it may be the finest, most honest, writing ever
written.
Throughout the
book Davis honors us with her own travails, doubts and conviction as she
explains how she managed such an amazing feat.
Looking Out the Back
Door
shows us the redeeming value of spirit and guides us to wisdom that
enriches as much as it entertains. "
Kirkus
Reviews
:
Hardship,
brutality and frustration are balanced by sudden gleams of grace in these
luminous period
fables.
Recreating a wide palette of historical settings, Davis' stories are
full of old-fashioned perils but have characters and emotional conflicts that
feel fresh. At the modern end of the timeline, "Thusey" investigates the
delicate emotional dilemma of a slave woman in the Civil War-era South who
defies the conventions of white and Black society. At the other temporal
extreme, "The Lure" recounts a prehistoric midlife crisis—an exciting young
woman tempts a 40-something barbarian away from his boring marriage, after
nursing him back to health from a bear mauling. In between, readers meet an
18th-century study in narcissism in the form of a Mozartian musician with an
unappeasable thirst for applause ("The Unknown"), a Dutch orphan who runs off to
sea and learns about moral shades of gray from a gang of bloodthirsty pirates
("Soup") and a 14th-century English jester disgusted by the corrupt politics at
King Edward II's court. The author's scenarios have a tense naturalism in which
existence is a grind of work and calculation, always with an eye toward a loaf
of bread or a piece of land—until a life is upended by disease, murderous clan
feuds or a rat attack. But these also feel like fairy tales for grown-ups,
gripping legends full of vigorous deeds, arbitrary power, otherworldly innocence
and the occasional sadomasochistic priest or magic sea turtle. There are
explicit morals—people learn over and over that modest happiness is worth far
more than riches and fame—and a palpable religiosity (especially in "The
Garden," in which a woman in Roman Palestine endures a most agitating
houseguest—Christ.) Davis steeps her fictive world in evocative imagery—"He
watched her eat daintily, the long thin fingers picking at her food like
knitting needles"—and a vibrant, lyrical prose. While her characters weather
hard lives and capricious fates, they still see loveliness and divinity in
everyday life. Harshly beautiful stories, shot through with spiritual
exaltation.
The Midwest Review
, Helen's Bookshelf: "Life comes at us in many ways with much understanding. 'Looking Out
the Back Door: Visions of Past Lives' is a collection of short stories from Ann
Richardson Davis as she discusses the experiences that bond us all, through time
and through family. Seeking to embrace that connection in her stories, "Looking
Out the Back Door" is a thoughtful collection of short fiction that will appeal
to anyone seeking short stories with a personal and spiritual element." Helen
Dumont, reviewer
---