Some of my favorite books, authors and websites:
www.deepakchopra.com
Out of his many books, " The Seven Spiritual Laws of Success" is the one I keep by my bedside. I am now reading "The Third Jesus - The Christ We Can't Ignore." I am SO HAPPY I bought it. I intend to review it shortly.

www.eckharttolle.com
The author of human history changing books, "The Power of Now" and "A New Earth: Awakening to your Lfe's Purpose."
www.zukav.com
Gary Zukav, author of such bestsellers as "The Dancing Wu Li Masters," "The Seat of the Soul" and "Soul Stories"
www.drwaynedyer.com
My first great "teacher" to whom I will be forever grateful for his just being here on planet earth.
www.andrewcohen.org
A great spiritual seeker and teacher, a flame attacting other flames to build the great fire of the old world's undoing and orchestrating the rise of the phoenix from the ashes.

www.realityshifters.com
Cynthia Sue Larson, spiritual life coach and author of "Reality Shifts," "Aura Advantage", and other books. I came upon
Reality Shifts: When consciousness changes the physical world
just when I needed to clarify my thinking. I am filled with gratitude for her sharing her insights, discoveries and wonderful clear writing. Life changing!
www.maryebarton.com
Mary Barton, author of "Soul Sight: Projections of Consciousness and Out of the Body Epiphanies," "Experience Tomorrow Today: Dreams that Come True," "Everyday Telepathy - Clairvoyance and Precognition" Mary is a book reviewer contributor for
www.examiner.com
.
www.ravenecho.com
Dr. Ian Baillie is an old and dear friend. Author of interesting, mind-bending books for those willing to explore into less-traveled country. His books can be purchased at
www.amazon.com
Greg Kuhn's new book, "Why Quantum Physicists Do Not Fail" is a practical guide for using the new science to improve your life and success rate. It is sold at Amazon.
www.gogardennow.com
Garden supplies and cool blogs by my nephew, John Marshall.
Stretch white alabaster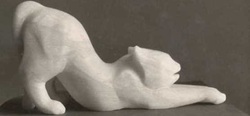 Done in the old days before I was too old to shift stone.
---
Busy Getting Wet watercolor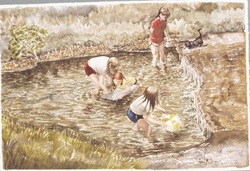 My daughter and friends in the creek on our property in Tennessee. Those little girls were really in motion, as was the flowing, sparkling water. Everything was busy. The water in this spring- fed stream was always cold even in the heat of summer. We would pick our vegetables, dump them out of bushel baskets into the stream and wash them. The excess bounty I would later can in glass jars or freeze them for winter. Private collection.
---
Ah! Spring! acrylic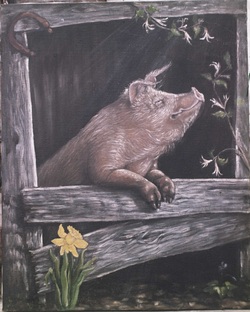 Sometimes you just have to have a sense of humor - even in ART. Maybe especially if you are an artist. Making a name for oneself in ART is just too darned hard. It requires pompous parading and delusion. Since I am on the subject of the hills of Tennessee, here's an acrylic that I enjoyed doing for the heck of it. Every spring our neighbor's pigs would raise their snouts into the blessed soft air that was scented with fallow earth, freshly broken and left behind by frost. Ah! Roots and grubs and who knows what else? Adventure! What could smell better to a hog that had been fed slops on ice all winter? Of course, they broke out. Even from the most substantial pen, they would find a way.
---
Bachelors Three egg tempera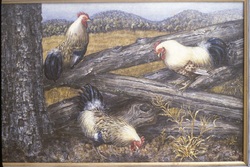 Another Tennessee picture. This was one of my first egg tempera works. I was in love with the medium. These three bantam rooters were given to us. We had no bantam hens, so they were a lonely threesome.
I was alone during the day out in this place of great natural beauty and got a lot of work done. I had some hard times and some good ones, learned a lot about the world we live in, about human beings and about spirit. Spirit was the essence of everything and worked along with me during this time. Private collection.
---
The Guardian egg tempera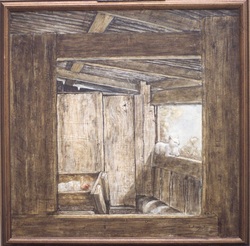 I stood in cow manure to get this painted, looking into the barn. I was enamored with the idea of the Christ child being born in just such a place. We had white cats at the time. I used one here as a symbol for a spiritual guardian for the spiritual child. Crosses were naturally there - in the ceiling rafters, the nail and cracks in the facing wall. The manger was a hollowed-out log feeder.
---
Early Morning Ramble watercolor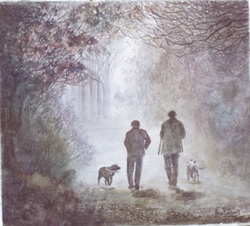 It is interesting. That hunters who kill for sport can also be those great lovers of nature. They are part of it.
I discovered that I had to block out everything I was told was important to do in ART, or what I was supposed to be as an ARTist. I wanted to just feel and paint that feeling. Private collection.
---
Fully Ripe acrylic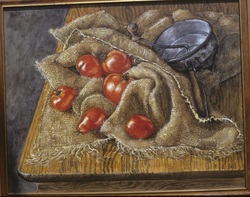 Some of those delicious vegetables we washed in the creek were selected for props. I loved the textures in this, the thin-skinned, fully ripe tomatoes, the scratchy burlap, metal, wood, and grained oak. Private collection.
---
Tennessee Wildflower boneware clay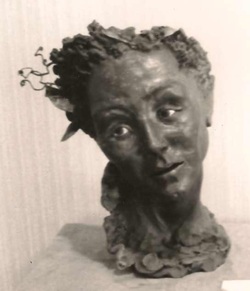 Experimenting with boneware clay, an unfired piece. She is just a strip of brown earthy clay, rolled and rounded to stand on itself. Rather like tree bark. I incorporated bits of vine and leaves and coated them with acrylic. She emerged a genuine nature child, which is what I wanted. The piece held up nicely. I still have it. I have very few works left. All have found other homes or, as in the case with a few, have been destroyed by UPS or other accidents. (Tripping over pedestals in the dark, etc.) Another view follows.

---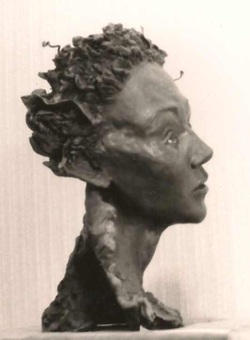 Peonies and Copper egg tempera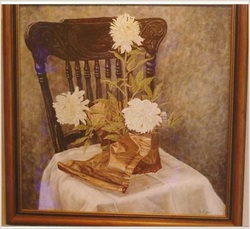 This was an exercise (and I do mean an exercise) in discipline in the medium - for me to hone my skills and force myself to tedious work for the greater expression. I used copper for repousse' work at that time and loved the look of it against the delicate, lush peonies that grew in my yard in Tennessee. This chair for some reason always reminds me of my mother. I think she must have had a twin to it when I was a child. White linen completes the contrast in textures and colors. I was not nearly as good at photographing my work as executing the original. The photo has some defects and does not do justice to the original. Private collection.

---
Against the Wind egg tempera
An exercise in tension. The elements of the design push the little burdened man to the corner edge of the picture, but still he struggles forward. I think the meaning is clear. Tennessee willows are beautiful. This was modeled after scenery in "Topsy" the farming community where we lived. Never knew how it got its name. It lies south of Nashville and north of Florence, Alabama. It is beautiful countryside, but somehow the worm invaded even this Eden's apple in the form of drug trafficing and troubled teens. Private collection.
---
The Fall of Lucifer pink and rose alabaster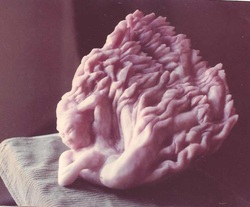 I would get a shipment of smal boulders of alabaster from an art supply located in New York city. They would send me whatever they wanted to send, and it would be up to me to find out what was in each piece. I would take a boulder out, roll it around on the table, wetting it to see the colors and grain in it, the fractures. I would "sleep on it", rather, I slept little until I saw what could be done with it. Then I would be so excited that I could hardly wait to begin. I was able to drill down into this piece, producing layers between the darker colored "flames" which allowed it to glow in proper light. LIGHT is always important, people! The back of this piece is sort of snaky - the movement upward ominous. This was shown at Chatauqua National and purchased by someone in New York state if I remember correctly.

---
Cleo and the Moths egg tempera with added elements
Cleo and the Moths - egg tempera with added elements. This painting is a booger to try to photograph. Not a good replica, I'm afraid. It was fun to do since I allowed myself a certain amount of freedom that I was too timid to use before. No cross-hatching egg tempera here. I squirted and dripped, pushed, pulled, finger painted and added bonded silver tape to achieve the mystical effects. I had a couple of white cats at this time, and they loved to go adventuring in the moonlight. I often spotted one from my window at night - either softly, slowly padding through the fields or dreaming in the woods as though she were a spirit whole, suddenly knowing who she was and what it all was. As though she had the answer to the universe. Seeing her like this tantalized me, because she saw it all and understood. I was, at this time, yearning for that door to open for me.
---
Moccasin Creek watercolor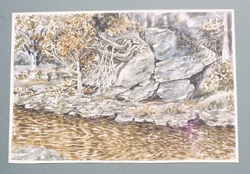 Tennessee - near our house in Topsy. Private collection.
---
Orang Motherhood watercolor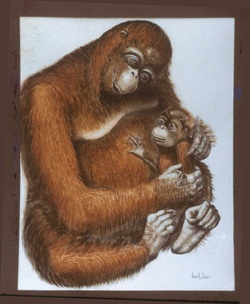 What can I say? Motherhood takes many forms. Private collection.
---
Feeding time egg tempera
There's something about the fall season. A little chill in the air, the grass and leaves crackle underfoot. There is an essential bareness about it. Stripped to its bones, the earth resting, everything slows down. Getting out in it can be a spiritual experience. Coming home through your own warm and welcoming doorway means so much more. The earthy and the spiritual delineated.
---
Goldfinches egg tempera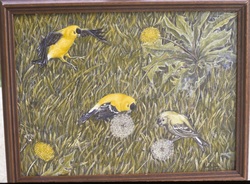 They came in droves in spring, riding down the dandelions to feed on downy seeds. When I moved back to Georgia I missed them. Then I realized some dull gray birds with faint yellow patches in my yard were goldfinches. They do not get their bright plumage here until they are about to migrate further north.
---
Hair Brushing alabaster
Trying for softness and movement here.
---
Gopher turtle acrylic study and poem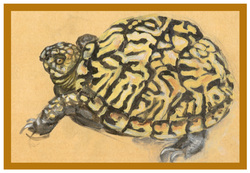 TURTLE AND ME

I, like the turtle, am a cautious soul, Not for me the chill harsh world
I'm not aggressive, nor am I bold. with sudden insult, injury hurled
Snug in my shell, with weather eye, upon my head in cruel attack
I check for dark clouds in the sky, When tread upon, I flinch right back
for cold, unhealthy draughts of air, into myself - until I cure the pain
to venture out with seemly care. and the sunshine finds me out again ARD




---
Darien Bridge egg tempera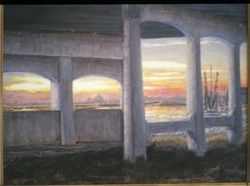 Moved back to the Georgia coast. Loved the views framed by the bridge spanwork. Spent a lot of time there. Darien is a small fishing town with lots of history and charm.
---
Georgia memory egg tempera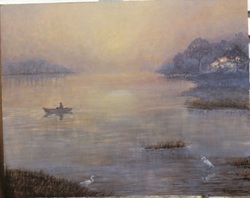 Tried to find myself when I got back home to Georgia. Discovered my path had divided. Finally, in the midst of pain, had an epiphany of sorts, began writing.
---